Pregnancy and Infant Loss Awareness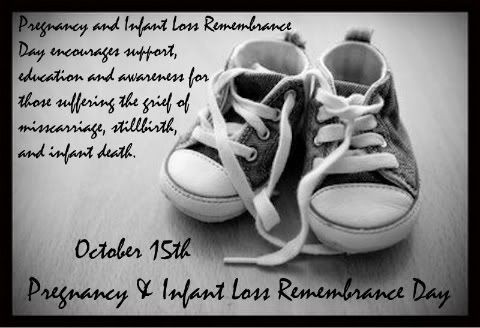 October is a month for awareness. Most people know it as the month to remember breast cancer survivors which I feel is EXTREMELY important. But it is also domestic violence awareness month (I will recognize this later on this month) which I have been personally affected by and it is also National Pregnancy and Infant Loss Awareness Month. October 15th is the day specifically set aside to remember....
Today is a day to remember. God's perfect creation. Babies. Babies that, for whatever reason, were not meant to live on the earth for a long time. It's sad. It's unpleasant. It's devastating. It's hard to understand. It's real. Very real.
I have so many....TOO many friends that have lost babies and as I have posted on here before...it BREAKS MY HEART!!!! I can't think about it for long because it seriously has a huge impact on me. I have a hard time. It is SO not all about me...I guess my point is that as hard as it is for me to think about the pain and make sense of it in my heart and mind, it must be so incredibly difficult for those that actually have endured it. God has not given me that grace and if He has granted that to you...bless you...I can't imagine.
For all of my sweet friends who have lost due to miscarriage...
Stillbirth....
Infant death...
Abortion....
I am so sorry.