BIG Game Tomorrow!!!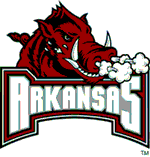 So, you already know that I LOVE COLLEGE FOOTBALL!! I LOVE the Razorbacks!!!! So...tomorrow...big game. I don't think we will ever win but I am hoping that we can hold our own. That would make me happy! The deal is that NO ONE is supposed to beat the #1 team...that's why they are #1, right. Well, how awesome would it be if we could beat the #1 team??? Pretty. Stinkin. Awesome! SO....
GO HOGS BEAT THE FLORIDA GATORS!!!!!!!!