Monday
You have to, have to, HAVE TO watch the video on my blog before this one! HILARIOUS!!! I have watched it like 4 times! HA!
Well, as you might recall, Mondays are my weigh-in days. I lost 1.6 lbs this week!!! And, honestly I am pleased! I had Spring Creek BBQ and some REAL Bluebell ice cream yesterday...but I didn't eat dinner. I have lost 6 lbs in 3 weeks!!!!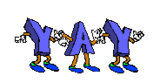 I was really ready to give up again after last week and the anticipation that this week would be slow again...BUT, I will press on!